WORLDWIDE SHIPPING FROM JAPAN & AUSTRALIA
The Timeless Artistry of the Matcha Whisk (Chasen)
Bamboo Matcha Whisk: Handcrafted Bamboo Whisk 100 Prongs
Product Info
• Handcrafted

: Each whisk is uniquely crafted by hand
• 100 Prongs

: Designed with approximately 81-95 prongs for optimal frothing
• Material

: Made of natural bamboo
• Origin:

China
• Size

: Approx. 2.4 inches in diameter and 4.3 inches in height
• Care

: Rinse with hot water, dry in a well-ventilated area, and store away from direct sunlight
• Natural Variations

: Expect slight differences in size, color, and knots due to the bamboo's natural properties
• Beginner-Friendly

: The large number of prongs makes it ideal for beginners
Note: Avoid using dishwashers and dish soap
The allure of the matcha whisk, known traditionally as the chasen, lies in its rich heritage and meticulous craftsmanship. Each of our chasens is a testament to this legacy, handcrafted with precision by skilled artisans using the finest natural bamboo. Drawing inspiration from the esteemed Takayama region of Ikoma City, Nara Prefecture—a place celebrated as the "village of Chasen makers" with a chasen-making history rooted in the Muromachi period—our whisk embodies the perfect fusion of history and artistry.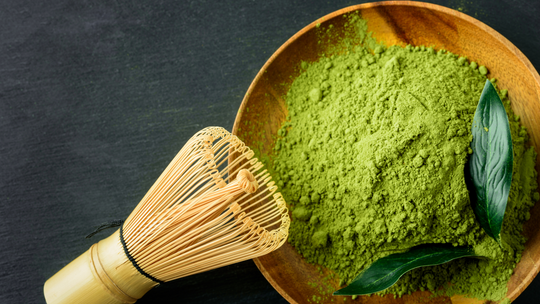 Crafting the Perfect Matcha Tea Whisk: A Journey of Precision
The creation of a chasen is an intricate process, involving several meticulous steps:
Katagi (Hegi): The bamboo's outer layer is delicately peeled, revealing its inner beauty.
Kowari: The bamboo is segmented into precise portions, ensuring uniformity.
Ajikezuri: Tips of the bamboo are immersed in hot water and then expertly shaped.
Shitaami/Uwaami: The bamboo undergoes chamfering and is then knitted with thread, giving it its distinctive appearance.
Decoding the Chasen: A Blend of Tradition and Symbolism
The term "Chasen" has been represented by two distinct kanji characters over the years. The kanji for "Chasen" is generally written "茶筅". But in Takayama, a northern town in Nara, people have been using the kanji "茶筌". While both are correct, they encapsulate different meanings:
筅(Sen, Sasara): Historically, this referred to a tool used for scraping burn marks from cook wear.
筌(Sen, Ue=Uke): This character embodies the essence of bamboo, symbolizing the maximization of its benefits.
https://cdn.shopify.com/videos/c/o/v/cdf0c96d213844feb6c5aa22c6879180.mov
Modern Elegance Meets Traditional Craftsmanship
In the world of matcha bamboo whisk design, modern aesthetics seamlessly blend with age-old tradition. Contemporary chasen designs, adorned with colored threads and unique charms, are a testament to this harmonious fusion. Chosen by many, these designs perfectly encapsulate the blend of tradition and modernity.
Why Choose Our Matcha Whisk?
Handcrafted Excellence: Each whisk is a unique piece of art, crafted meticulously by hand.
Superior Frothing with "100 Prong" Classification: Crafted with around 81-95 prongs, this whisk guarantees a consistently smooth and frothy matcha texture, embodying the tradition and quality of high-density chasens.
Authentic Bamboo Craftsmanship: Made from natural bamboo, our whisk promises durability and authenticity.
Ideal Dimensions: Measuring approximately 2.4 inches in diameter and 4.3 inches in height, it's the perfect size for all your matcha needs.
Easy Maintenance: Simply rinse with hot water, dry in a well-ventilated space, and store away from direct sunlight.
Natural Beauty: Embrace the natural variations in size, color, and knots, each adding to the whisk's unique charm.
Beginner-Friendly Design: With its large number of prongs, our whisk is perfect for both novices and matcha connoisseurs.
A Global Touch: While deeply rooted in traditional craftsmanship, our matcha whisk brings together the best of global artisanship, celebrating the fusion of diverse cultures and techniques.